TXT
ensaios, pensatas, artigos e contribuições
TXT
Writings essays, thoughts, articles, contributions
---
Uma série de fragmentos de textos encontrados em diversas origens sobre a dimensão política da prática do design gráfico, arranjados de maneira a tentar formular um discurso polifônico e semi-coerente.
We must begin to believe our own rhetoric and see design as an integrative field that bridges many subjects that deal with communication, expression, interaction, and cognition. Design should be about meaning and how meaning can be created. Design should be about the relationship of form and communication. It is one of the fields where science and literature meet. It can shine a light on hidden corners of sociology and history. Design's position as conduit for and shaper of popular values can be a path between anthropology and political science. Art and education can both benefit through the perspective of a field that is about expression and the mass dissemination of information. Designers, design educators, and design students are in a more important and interesting field than we seem to recognize.
– – Gunnar Swanson,
Graphic Design Education as a Liberal Art
, 1994
Any attempt to separate design, to make it a thing-by-itself,
runs counter to its inherent value as the underlying matrix of life.
– – Victor Papanek,
Design for the Real World
DR RENÉ SPITZ Ref
1
GUILHERME FALCÃO — 5 Exercícios Simples. Aula 1, 2020
YOKO AKAMA, ANN LIGHT — Practices of Readiness: Punctuation, Poise and the Contingencies of Participatory Design, 2018
JACOB LINDGREN —
Graphic Design's Factory Settings
, 2020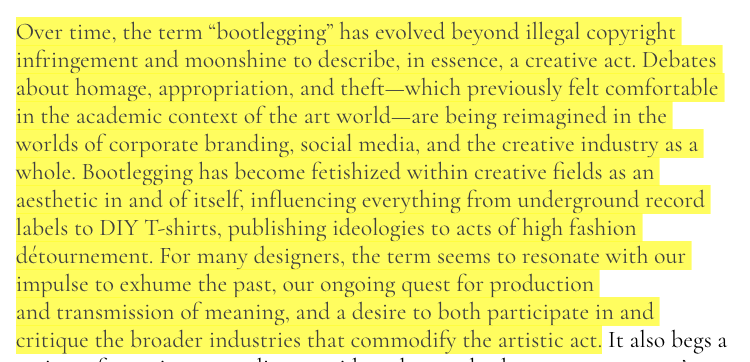 UNLICENSED
— Walker Art Center, 2018
MARK FISHER — ?
KARIM AINOUZ, 2020
AILTON KRENAK, 2019
MIUCCIA PRADA, 2019
Ref
1


—
© GUILHERME FALCÃO PELEGRINO, 2010—2020